DoNews, September 9 news (Ding Fan) Recently, Huawei officially announced via Weibo that it will hold a new Huawei Smart Office product launch conference at 19:30 on September 13 with the theme "Free Creation, Unbounded Communication".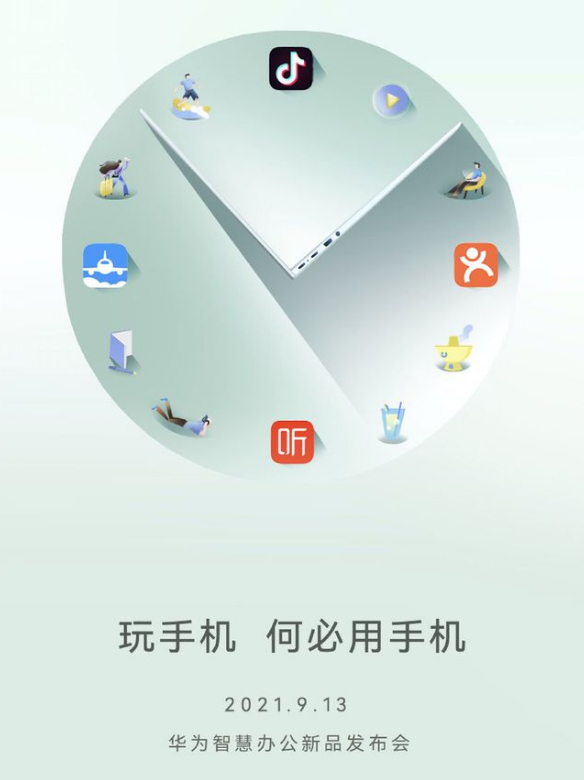 According to the poster, Huawei stated that "the mobile phone can play, TA is also OK", and also displayed the mobile app icons such as Douyin and Dianping in the warm-up poster, which seems to imply that this new product will be able to directly run the Android App. , Can take into account part of the mobile phone experience, which will bring great help to the office scene and improve efficiency.
It is reported that Huawei will release two notebooks, Matebook 13S and 14S, on September 13, using Intel processors. From the naming point of view, they will be equipped with 13-inch and 14-inch large screens. There is also news that the "14-inch large-screen mobile phone" that was exposed a few days ago refers to this 14-inch screen Matebook 14S notebook. Unlike Win11, it is reported that Huawei has adopted self-developed citation technology to realize the development of mobile apps. run.
In addition to notebooks, Huawei will release a large wave of brand-new products for office scenes this time, which may include new monitors, all-in-one products, and laser printers essential for office work, which will greatly improve work efficiency. promote.